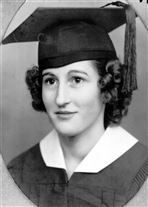 Ava Clark Smothers
(April 17, 1923 - January 22, 2015)

Mrs. Ava Clark Smothers, 91, of Huntingdon, Tennessee passed away Thursday, January 22, 2015 at her home.

Funeral services will be conducted on Saturday, January 24, 2015 at 1:00 PM in the chapel of Dilday – Carter Funeral Home. Interment will follow in the Butler Cemetery. Brother Fred Ward and Brother George Hill will officiate the services.

Mrs. Smothers was born April 17, 1923, in Buena Vista, Tennessee, to the late Garvin Clark and Lonie Brown Clark. She was a member of the First Baptist Church and a retired case worker for the Dept. of Human Services. She served as the First Baptist Church Nursery Director for 40 years, served on the Women's Missionary Union and the Huntingdon Woman's Club. She was preceded in death by her husband, Lloyd Smothers, who passed away December 2009 and a sister, Brooxie Clark.

She is survived by a son, Clark Smothers, of Kalamazoo, Michigan, a granddaughter, Lydia Smothers, and a sister, Lota (Philip) Park, of Bruceton, Tennessee. She also leaves 21 nieces and nephews and her caregivers, Auga Floyd, Vonelle Fowler, Jennifer Hampton, Margie Blasingame, Doris Rutter and Kayla Allen.

Pallbearers who served were John Carter Park, James Park, Cliff Kelley, Keith Smothers, Stanley Scates and Lucas Taylor. Honorary pallbearers who served were Dale Kelley, Harry Easley, Walton West, Henry Simpson and Arville Wilks.

The family will receive friends on Saturday from 10 AM till time of services at Dilday – Carter Funeral Home.