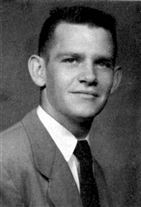 Travis Roland Bennett
December 12, 1936 - October 11, 1988

Mr. Roland Bennett, 51 of Hollow Rock, died Tuesday, October 11, 1988, at St. Thomas Hospital in Nashville after. a long illness. He was born December 12, 1936 in Carroll County to Mr. Lloyd Jackson Bennett and the former Ms. Era Bell Roland. Mr. Bennett was also a member of the Prospect Baptist Church: in Hollow Rock. Services were conducted Thursday, October 13, at 2:00 pm. at Prospect Church with Bro. David Bayer officiating: Burial followed in New Prospect Cemetery in Hollow Rock. Bruceton Funeral Home was in charge of arrangements.

He is survived by his wife, Mrs: Shirley Bennett and a son, Mike Bennett of Gleason, three sisters; Mrs. Thelma Davis, Mrs. Jewell Flowers and Mrs. Gladys Lowe, all of Hollow Rock; two grandchildren, Ryan Bennett and Adam Bennett, both of Gleason. Pallbearers were Aubrey Forrest, Tim Gateley, Gaylon Lowe, Leroy Cobb, Kenneth Taylor and Jessie Ross.