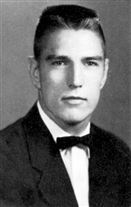 Billy Joe Edwards
October 9, 1938 - August 19, 2011

Billy Joe Edwards, 72, of Hollow Rock, passed away on Friday, Aug. 19, at his home.

Services were held at 2 p.m. Sunday, Aug. 21, at Bruceton Funeral Home with Bra James S. Daniel officiating. Burial followed at Prospect Cemetery. Pallbearers who served were Monte Bayless, Steve Parker, Sam Bailey, Charles Cunningham, Joey Hedge, and Kevin Stepp. Honorary pallbearers were Billy Howe, Larry Spencer, Bobby John White, Byron Wilson, James Abbott, Kevin Abbott, and Daniel Abbott.

Mr. Edwards was born on Oct. 9, 1938, in Hollow Rock, to the late James Lester Edwards and Ennie Lee Holladay Edwards. He was a retired pot room employee for Consolidated Aluminum, a member of Prospect Baptist Church, and an Army Veteran with 82nd Airborne. He is survived by a very special friend and caregiver, Peggy Hedge, and her children, who were very special to him, Angelina and Joey Hedge; an aunt, Carmel Hawkins; and several cousins.