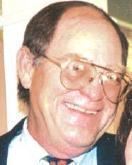 Neil Ray Haynes, Obituary Picture
Neil Ray Haynes
1943 - September 14, 2011

Neil Ray Haynes, 68, of Savannah, former administrator at Hardin County School System, died September 14 at Jackson-Madison County General Hospital. Services were September 16 at East End United Methodist Church in Savannah with Rev. Richard Wesley and Pastor Mary Foote officiating. Pallbearers were Kevin Davis, Bob Adkinsson, Tony Fondren, Donnie Burrow, Keith Namishia and Bob Shutt. Burial followed in Oakwood Cemetery, Milan, with Dr. Michael McAdoo closing the ceremony with prayer. Bodkin Funeral Home had charge.

Mr. Haynes was a member of East End United Methodist Church, Savannah, where he served as Finance Chairman, member of the Administrative Council and choir member. He belonged to the TSSAA and coached football at Milan, Huntingdon and Savannah Middle School. He also served a dual role as superintendent/ principal in Atwood from 1969-1970. He began his college career at the University of Memphis, played football at Murray State University on a scholarship and was a member of the Alpha Tau Omega fraternity. He received his Masters at UTK in 1969 and attained 45 hours toward his Doctorate.

Mr. Haynes, the husband of Judy Creswell Haynes, also leaves a son, Neil Scott Haynes and wife Shawna of Bells; a brother, Johnny W. Haynes (Betty) of Hollow Rock; a sister, Nancy Haynes Robinson (Hal) of Maryville; two grandchildren, Alexander Hunter Haynes of Savannah and Jocelyn Evie Nicole Haynes of Bells; and many nieces and nephews. Memorials may be directed to the East End United Methodist Church, 104 Fairground Street, Savannah, TN 38372.