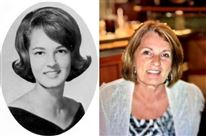 morello_karen_kortvely.jpg
Karen Morello
May 2, 1947 - January 22, 2023

Karen Kortvely Morello, passed away peacefully at home in Nashville, TN surrounded by her family on January 22, 2023.
She was preceded in death by her parents, William (Bill) Kortvely and Maxine Kee Kortvely and baby sister, Judy Kortvely.

She is survived by her husband of 55 years, Michael Morello, children, Michael (Michele) Morello II, Lea (Christopher) Coover, grandchildren, Morgan Morello, McKenna Morello, Maddox Morello, Zachary Coover and Cody Coover.

Karen was a longtime member of Brentwood Hills Church of Christ. While she was faithful to her family and friends, she was also faithful to her Lord and Savior Jesus Christ. She exemplified kindness and compassion and spent countless hours serving alongside her dear friends at Brentwood Hills, both in Nashville and beyond. Karen had a true servant's heart and touched countless lives, leaving behind a legacy of Christ like love.

Visitation will be on Friday January 27, 2023 from 5:00-8:00 PM at Brentwood Hills Church of Christ and on Saturday January 28, 2023 from 10:00 AM to 12:00 PM. Funeral service will be on Saturday at 12:00 PM at Brentwood Hills Church of Christ. Interment will follow at Woodlawn Memorial Park. All times are Central Standard Time.

The family has requested in lieu of flowers memorial contributions be made to a charity of your choice.

Fond memories and expressions of sympathy may be shared at www.Woodlawn-Roesch-PattonFH.com for the Morello family.
[Source: Woodlawn-Roesch-Patton Funeral Home.