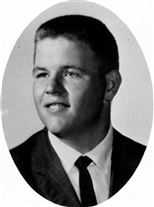 Jimmy "Tiny" Williams
(Died September 3, 2016)

Mr. Jimmy "Tiny" Williams, 70, of Huntingdon, Tennessee, passed away Saturday September 3, 2016, at Huntingdon Health & Rehab.

Memorial services will be conducted 1:00PM Thursday September 8, 2016 in the Chapel of Dilday-Carter Funeral Home.

He is survived by his companion Martha Williams; daughter Tina Pritchard; brother Will Dee Williams; sister Kathy Mann; two grandchildren Michael & Rachel Pritchard; several nieces & nephews.

The family will receive friends on Thursday from 12:00 PM until time of services.

Memorials made to the charity of choice.

Dilday-Carter Funeral Home in charge of arrangements 731-986-8281.