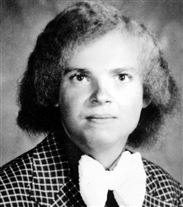 rogers_kenneth_elwood.jpg
Kenneth Elwood Rogers
June 16, 1956 - September 30, 1980

KENNETH ELWOOD ROGERS Services for Kenneth Elwood Rogers, 24, were Thursday, October 2, at 9 a.m. at Bruceton Funeral Home Chapel with Rev. John Hedge officiating, Burial was in Pleasant Hill Cemetery. Mr. Rogers was killed Tuesday night in a auto accident near Sawyers Mill on Natchez Trace Road. He was discharged from the U.S. Arniy September 16.

He is survived by his mother, Mrs. Corine Rogers of Hollow Rock; two sisters, Mrs. Sherry Chenh of Oakland, California and Miss Yolonda Smothers, U.S. Air Force, New Mexico; and one brother, Mark Smothers, U.S.; Air Force, Mississippi.