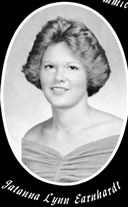 earnhardt_jatanna_lynn.jpg
Jatanna Lynn Earnhart
May 5, 1964 - June 7, 2010

Jatanna Lynn Barton age 46 of Gallatin passed away Monday June 7, 2010. Mrs. Barton was cremated. A memorial service will be conducted on Thursday June 10th at 5:00 p.m. from the chapel of Family Heritage Funeral Home with Brother Jerry Peace officiating. Visitation will begin at 3:00 p.m. and continue until time of service.

She was born in Salisbury, North Carolina May 5, 1964. Jatanna was the owner of All Clean Cleaning service in Gallatin.

She is survived by her husband Thomas Barton of Gallatin, one daughter Leslie Nicole Barton of Gallatin, her mother Shirley Noles and step father Jack of Southport, North Carolina, father Danny Earnhardt and step-mother Doris of Camden, TN, two brothers, Jamie Noles of Southport, North Carolina and Michael Earnhardt and wife Wanda of Westport, North Carolina, and several nieces and nephews.

Online condolences may be submitted at familyheritagefh.com Arrangements by Family Heritage Funeral Home.