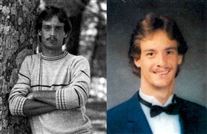 Timothy Brett Massey
April 5, 1969 - February 9, 1991

Services for Timothy Brent Massey were conducted Monday, February 11, 1991 in the Bruceton Funeral Home Chapel with burial in Oak Hill Cemetery in Huntingdon. Bruceton Funeral Home was in charge of the services. which were conducted by Richard Hendrix and Walter Lumpkin.

Mr. Massey, an iron worker and member of Local 167 in Memphis, was a member of the Bruceton Church of Christ.

He is survived by his wife, Mrs. Karen Hilliard Massey, son Timothy Taylor Massey, both of Bruceton, his parents, Mr. and Mrs. Jerry Massey of Hollow Rock, one sister, Stephanie Massey of Hollow Rock, maternal grandmother, Mrs. Laverne Hatch of Huntingdon, paternal grandmother, Mrs. Jesse Parker of Hollow Rock and great grandmother Mrs. Verlie Hatch of Huntingdon. Pallbearers were: Marty Roberts, Robert Brown, Scotty Hatch, Hubert Hildebrand, Greg Runions, and Adam Crews.