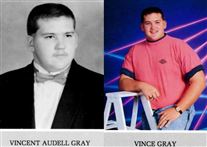 Vincent Audell Gray
July 4, 1974 - August 16, 2004

BRUCETON: Services for Vincent A. Gray, 30, will be at 1:00 p.m., Thursday, August 19 at the First Baptist Church with Rev. James Daniel officiating. Burial will be in the Jamison Cemetery near Westport with Tennessee State Guard honors at the gravesite.

Mr. Gray died of cancer on Monday morning, August 16 at Baptist Memorial Hospital in Nashville. He was a 1992 graduate of Hollow Rock-Bruceton Central High School and an engineer with CSX Railroad. He was a member of the Bruceton, Carroll County and Hollow Rock volunteer fire departments, the Carroll County Rescue Squad, the Tennessee State Guard and he was a First Responder.

He was born July 4, 1974 in Camden to Danny and Barbara Gray who survive. He was a member of Prospect Baptist Church in Hollow Rock.

Survivors include his wife, Dawn Marie Gray; two daughters, Allison Hamer and Lisa Hamer, both of Hollow Rock; a son, Chris Hamer of Hollow Rock and one brother, Casey of Hollow Rock.

Visitation will be at the Bruceton Funeral Home from 4:00-9:00 p.m. on Tuesday and Wednesday, from 9:00 a.m. until 9:00 p.m. Bruceton Funeral Home is in charge of the arrangements.