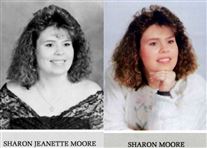 moore_sharon_jeanette.jpg
Sharon Jeannette Moore
September 21, 1974 - October 11, 2005

BRUCETON: Sharon Jeanette Moore, 31, died Tuesday, October 11, at Baptist Memorial Hospital in Huntingdon. Funeral services were conducted Friday, October 14, at Prospect Baptist Church. Interment followed in the Prospect Cemetery. Bro. Alan Maness, Bro. Donnie Craig, and Bro. James Daniels officiated the service.

Ms. Moore was born September 21, 1974, in Camden. She worked for the Cato clothing store as an assistant manager and participated in Relay For Life events.

She was preceded in death by her maternal grandfather, Parker Rummage, and her paternal grandparents, Adrian and Josie Moore.

She is survived by her father and mother, Charles and Margie Moore of Buena Vista; one daughter, Josie Hannah Moore; one son, Tyler Wesley Moore; maternal grandmother, Nell Rummage Taylor of Bruceton; two sisters, Denise (David) Brawner of Bruceton and Amanda (Clay) Hampton of Camden; one brother, Anthony Moore of Bruceton; four nephews; and two nieces.