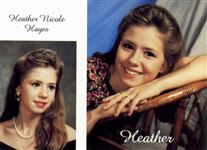 Selena Beth Devault
May 21, 1977 - June 14, 2003

HOLLOW ROCK: Services for Selena Devault, 26, were at 3:00 p.m., Monday, June 16 at Bruceton Funeral Home Chapel with the Rev. Roy N. Hayes, Sr. officiating. Burial was in Prospect Cemetery in Hollow Rock. Miss Devault, an emergency medical dispatcher in Waverly, died on Saturday, June 14 at Baptist Memorial Hospital in Huntingdon. She was born May 21, 1977 in Jackson. She was an American Heart Association Health Care provider.

Survivors include her parents Sherman and Beth Devault of Hollow Rock; a bother, Jeremy Devault of Hollow Rock; maternal grandfather Edward Cary and paternal grandmother, Virginia Devault, both of Hollow Rock.