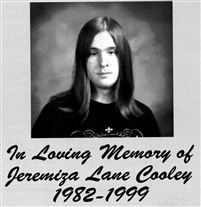 Jerimiza Lane Cooley
July 6, 1982 - January 22, 1999

Died before graduation

Jeremiza Lane Cooley, 16 of Bruceton, died Friday, January 22, at Baptist Memorial Hospital. Services were helt Monday, January 24, at the Shiloh Missionary Baptist Church. Burial followed in the chruch cemetery. Broterh Ronnie Stewart officiated. Dilday Funeral Home was in charge of the arrangements.

He is survived by his mother, Pamela Jean Cooley of Bruceton; a brother, Daniel Scott Cooley of Bruceton; his maternal grandparents, Virgil and Selby Hedgepath of Buena Vista; his paternal grand parents, Archie and Gene Cooley of Gulf Shores, Alabama; his great-grandmother, Ollie Brinikley of Buena Vista; and an uncle, Randy Hedgepath of Nashville.

Pallbearers who served were David Prater, Danny Gurley, Jeremiah Agent, Bobby Huntoon, Andrew Smothers, and Zack Wyatt.