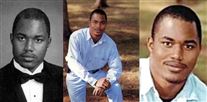 foster_antonio_maurice_obit.jpg
Antonio M. Foster
January 12, 1982 - August 20,2014

Antonio Maurice Foster, 32, of Bruceton, passed away Wednesday, Aug. 13, at Vanderbilt Medical Center in Nashville. Funeral services were held Wednesday, Aug. 20, at 1 p.m., at Mt. Nebo Baptist Church with Wallace Cunningham officiating. Burial followed at Old Pisgah Cemetery. Plunk Funeral Home of Camden was in charge of arrangements.

Mr. Foster was born Jan. 12, 1982, to Steve L. Porter, of Paris, and Juanita Foster King, of Bruceton.

He was a member of Mt. Nebo Baptist Church. He was preceded in death by his maternal grandmother, Georgia Foster.

In addition to his parents, he is survived by a brother, Steven McClerkin, of Nashville; two sisters, Shontoria Foster, and Heather Vasquez, both of Bruceton; paternal grandmother, Mattie Porter, of Paris; stepfather, Bruce King and step-grandmother, Ollie Walker, both of Bruceton; and several aunts, uncles, cousins, nieces and nephews.