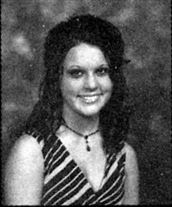 Jessica Rae Cole would have graduated in this class but she died before graduation
Picture was taken from her junior class at CHS.

Jessica Rae Cole
March 21, 1987 - January 14, 2004

BRUCETON: Services for Jessica Rae Cole, 16, were at 1:00 p.m., Monday, January 26 at Bruceton First Baptist Church with the Rev. Steven Frederick officiating. Burial was in the New Prospect Cemetery in Hollow Rock. Miss Cole, a student at Hollow Rock-Bruceton High School, died Saturday, January 24 at Henry County Medical Center in Paris from injuries received in an automobile accident.

She was born March 21, 1987 in Jackson. She was a junior at Central High School, a member of the Bruceton First Baptist Church and a member of the Central High School cheerleading squad.

Survivors include her parents, Robert Ray and Lisa Ann McIlhargie Cole of Bruceton; a brother, Chris Cole of Bruceton; her grandparents, Sue Taylor Cole of Bruceton, Shelia Clark of Medina and Roland McIlhargie of Toledo, Ohio.

Bruceton Funeral Home was in charge of the arrangements.[Source: McKenzie Banner]
-----------------------------------------------------------------------
Central High School Student Killed In Car Accident
01/28/04 Shirley Nanney [Carroll County NEWS-LEADER]

A popular Hollow Rock-Bruceton Central High School student died as the result of a single car accident Saturday morning in Henry County, nine miles north of Hollow Rock. Jessica (Jessie) Rae Cole, 16, of 116 S. Carroll Street, Bruceton was killed after she lost control of the 1996 Nissan Maxima vehicle she was driving and struck a bridge abutment. According to Trooper James Sexton of the Tennessee Highway Patrol, as she traveled north on State Highway 114, the vehicle dropped off the shoulder of the road, then returned to the roadway before striking the bridge. She was traveling alone and was wearing her seatbelt. She was on her way to Nestle's Beauty School in Paris where she had enrolled as a student around Dec. 13 of last year, according to beauty school owner Carolyn Russell.

According to her father, Robert Cole, she had planned to attend college at Middle Tennessee State University after she graduated from high school in 2005 and study toward becoming a nurse practitioner. She planned to complete a cosmetology course at the Paris School so she could work while attending college. Mrs. Russell said Jessie had been attending school on Saturdays and during the holidays when the high school was not in session. "She was Miss Personality," said Mrs. Russell. "All the students just loved her. The customers had all become so attached to her." She said they waited for a while Saturday morning for her to arrive for class, not knowing at the time that she had been involved in a car accident.

Central High School, where Jessie was a junior student, was closed all day Monday. High School principal Jackie McGee called her an outstanding student who possessed a great personality. "She was outgoing and made an impression on everyone," he said. "It was a big loss for the school system but it's a bigger loss for her family." He recalled that he was picking with her in the cafeteria last Thursday. "It's a memory I'll always have," he said. "You always remember something like that." Her cheerleading sponsors and fellow cheerleaders were in a state of shock Saturday as news of her death was learned. "Cheering was a big part of her life," said cheerleader sponsor Debbie Fox. "She was the peacemaker of the group and wanted everybody to get along." She would have been captain of the cheerleading squad next year. "She was a good kid who would do anything for anybody and didn't have a bad word to say about anybody," said Debbie Moore, who also serves as a cheerleader sponsor. "She was dedicated and uplifting to everyone in whatever she did."