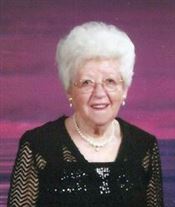 Reba Kyle
November 2, 1917 - March 21, 2014

Reba V. Warren, 96, passed away on March 21, 2014 at St. Luke Lutheran Community of Portage Lakes in New Franklin, Ohio where she lived for the past 6 years. Reba is now dancing in heaven reunited with her loving family and friends.

She was born November 2, 1917 to the late Grace Kyle and Charles Doy Kyle in Gleason, TN. Reba was a loving Mother, Grandmother, and Great-Grandmother who will be missed and lovingly remembered. Reba graduated from Central High School in Bruceton, TN. In her youth, Reba was crowned "Miss Hollow Rock" when she was 17 during a Sunday "Afternoon" Social in Hollow Rock. She worked at Akron City Hospital and attended the Akron Baptist Temple. Reba was an avid dancer and enjoyed ballroom dancing several nights a week. Reba enjoyed spending time with her family. She enjoyed swinging on back porch swings, celebrations at Belgrade Garden's, Christmas and Thanksgiving in her Children's homes, sunny afternoons with family on their back deck and outings to the farm to visit with the horses. Family was her life and most important to her.

Reba was preceded in death by her husband, Norton; and her sister, Eloise Hulsey. She leaves her loving and devoted son, Dale and daughter-in-law, Monica Warren; best friend and loving and devoted daughter, Judy and son-in-law, John York; and brother, John (Carolyn) Kyle. Reba leaves to mourn her death: grandchildren, Kim (Kenny) Frost, Keith (Tonya) Warren, Mark Warren, Brandon (Ginger) York, and Bryce (Debbie) York; great-grandchildren, Joshua Warren, son of Keith and Tonya Warren, Tyler, Noah and Abby York, children of Brandon and Ginger York, and Ilana York, daughter of Bryce and Debbie York; many other family and friends.

The family would like to thank the staff of St. Luke Lutheran Community of Portage Lakes and Crossroads Hospice for their love and support.

The family will receive friends at Bacher Funeral Home, 3326 Manchester Rd. on Tuesday, March 25, 2014 from 6 to 8 p.m., where a funeral service will be held Wednesday, at 11 a.m. Interment at Greenlawn Memorial Park. Memorials may be made to St. Luke Lutheran Community of Portage Lakes, 615 Latham Lane, New Franklin, OH 44319, in memory of Reba.