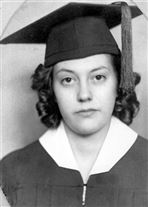 Mora Marcella (Rice) McLaughlin
September 5, 1923 ~ April 14, 2019 (age 95)

Mora Marcella Rice McLaughlin, 95, of Melbourne, Florida passed away on Sunday, April 14, 2019. Burial at Marlboro Church of Christ Cemetery in Bruceton.

Ms. McLaughlin was born September 5, 1923 in Vale, Tennessee to the late Fred G. & Lottie Liles Rice. She was a graduate of Central High School, Jackson Business School, and Rollins College. She retired from Civil Service with the Federal Government.

She was preceded in death by her husband, Hugh Daniel McLaughlin, Jr.

She is survived by one son, Steven J. McLaughlin of Melbourne, Florida; one daughter, Patricia A. (Brian) LaLonde of Melbourne, Florida; one granddaughter, Danielle C. Lahanas of Atlanta, Georgia; two brothers, James Gullford (Pat) Rice of Searcy, Arkansas & Rowe Rice of Dickson, Tennessee; and one sister, Ione Rice McFolin of Huntsville, Alabama.

Dilday-Carter Funeral Home in charge of arrangements 731-986-8281.