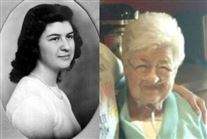 cole_virginia_1945_obit.jpg
Virginia Mae Cole

Virginiia Birdwell
July 31, 1926 ~ June 28, 2019 (age 92)

Mrs. Virginia Mae Birdwell, age 92, of Yuma, Tennessee passed away in her home on Friday, June 28, 2019, surrounded by loved ones.

Funeral services will be conducted 1:00PM Monday, July 1, 2019 in the Chapel of Dilday-Carter Funeral Home. Interment will follow in New Hope Cemetery in Yuma, Tennessee. Brother Phillip Gulledge & Brother John D. Small will officiate.

Virginia was born July 31, 1926 to the late Arvel & Hazel Cole in Carroll County, Tennessee. She was preceded in death by her husband, Bendell Birdwell; and son, Ben Birdwell.

She was saved at the age of 12 and attended New Hope Missionary Baptist Church. She was a member of the Eastern Star for over sixty years.

Virginia is survived by a multitude of friends & extended family, as well as her beloved community of Yuma.

The family will receive friends Sunday, June 30, 2019 from 4:00PM until 8:00PM and also Monday 8:00AM until time of service at Dilday-Carter Funeral Home.

Pallbearers include Burton Cary, Joe Hampton, Joe Lewis, Rusty Bolen, Justin Bolen, TJ Hall, Marty Woods & Randy Baker. Honorary Pallbearers include James Whitaker, Warren Rainey & Kenny Wooley.

Dilday-Carter Funeral Home is in charge of arrangements. 731-986-8281.