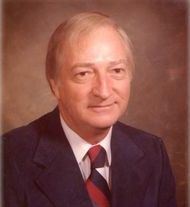 Otis H. "Shorty" Freeland
September 13, 1926 - December 30, 2014

O. H. (Shorty) Freeland, age 88, departed this life on Tuesday, December 30, 2014. Shorty was born on September 13, 1926 in Bruceton, TN, the son of the late Ottis Hill and Queen Esther Owens Freeland. Shorty received his nickname as a child due to being the shortest in his class until his senior year.

Shorty was united in marriage to Ann Clair Duren on June 26, 1949. He was a member of the First United Methodist Church in Adamsville, Tennessee. He served our country in the military and had a remarkable career. A University of Tennessee Knoxville graduate, Shorty, an engineer, served as administrative assistant to Tennessee's 44th governor, Ray Blanton, from 1975-1979. He, along with the 95 county advisory committees, was in charge of hiring and firing for state jobs. In recent years, he wrote the book "Ray Blanton and I," describing their early days as friends up to Blanton's final days in office and later life in great detail.

Throughout his life, he was a Mason, a Shriner, a McNairy County Commissioner, chairman of the Board of Water Commissioners in Adamsville, member of the McNairy County Board of Education, President of the Adamsville Lions Club and served on the board of directors for the Bank of Adamsville. Most recently, Governor Haslam appointed Shorty to the Tennessee Board of Communication Disorders and Sciences.

Shorty and good friend Ron Ashe established F & M Consulting, Inc in 1989 and Shorty worked there as the company's President until his final days. Shorty will forever be cherished and remembered for his honesty, loyalty and kindness. His amazing ability to tell a good story was his true gift.

He is survived by his wife Ann Freeland of Adamsville, TN; his children: Terri Wood and husband Dr. Bob of Mobile, AL, Rev. Ted Freeland of West Monroe, LA, Jana Davis and husband Tim of Luxembourg; grandchildren: Jill Talbert and husband Daniel, Brian Wood, Laura Wood, Barrett Davis, Parker Davis and Grayson Davis; great grandchildren, Audrey and Foster Talbert; and a brother, William Freeland and wife Martha of Bruceton, TN. In addition to his parents, Shorty was preceded in death by a sister, Motelle Cole and a brother, Dr. Doy Freeland.

Visitation will be held on Friday, January 2, 2015, from 11 am until the funeral service at 2 pm, all held at First United Methodist Church in Adamsville, TN. In lieu of flowers, memorials may be made to the First United Methodist Church in Adamsville.