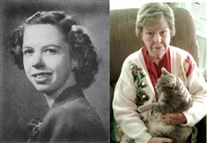 Vonnell (Brinkley) Cequin
December 12, 1931 ~ January 20, 2019 (age 87)

Hassie Vonnell Brinkley Cequin, 87, of Huntingdon, Tennessee passed away on January 20, 2019 at the Life Care Center of Bruceton-Hollow Rock.

Funeral service will be conducted 11:00 AM Saturday January 26, 2019 in the Chapel of Dilday-Carter Funeral Home. Burial will follow at Oak Hill Cemetery. Reverend Arthur Lodge and the Honorable Donald Parish will officiate.

She was the widow of Frank (Bub) Cequin, Jr., who preceded her in death on November 20, 2012. She attended school in Bruceton and had graduated in 1950. She was a member of the First Presbyterian Church (USA) in Huntingdon, Tennessee, where she had been a member since 1957.

Vonnell was the daughter of the late Scott and Hassie Parish Brinkley. Besides her parents and husband, she was preceded in death by three brothers, Robert Brinkley, Gilbern Brinkley, and Warren Brinkley; two sisters, Ruth Yates and Mae Dill; and one nephew, Danny Brinkley.

She is survived by two nephews, Scott (Sandra) Dill of Kernersville, North Carolina; G.I. (Sylvia) Woody of Brentwood, Tennessee; and three nieces, Katherine Jones, Cynthia (Charles) Siffel, and Susan (Robert, Jr.) Twitty all of Florence, Kentucky.

Serving as pallbearers will be Lindy Dill, Scott Dill, Bobby Hollowell, Mike Murphy, Nicholas Jones, Jim Schatz, Robert Twitty III, and G.I. Woody. Honorary pallbearers will be John Claypool, Donald Parish, Charles Siffel, & Robert Twitty, Jr.

Visitation will be held Saturday, January 26, 2019 from 9:00 AM until 11:00 AM at Dilday-Carter Funeral Home.

In lieu of flowers, donations can be made to the Building/Renovation Fund at First Presbyterian Church (USA), P.O. Box 651, Huntingdon, TN 38344.

Dilday-Carter Funeral Home is in charge of arrangements. 731-986-8281.