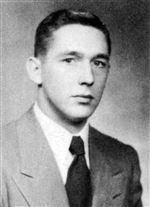 Tom Boyd, 45, vice-president of the Bank of Huntingdon, died at his home at 7:13 p.m. Monday, August 21, 1978, of what was described as an apparent massive heart attack.

Born Junuary 24, 1933, Mr. Boyd was the son of Mr. and Mrs. T.E. Boyd of Vale.

He joined the Bank of Huntingdon as head of installment loan department on Cotober 2, 1967. In February, 1972 he bacame a director of the bank and was named vice-president in 1973.

Mr. Boyd served well in many positions in community life. He was a member of the Board of Aldermen of the town of Hollow Rock, served as chariman of the cancer fund, served on the county airport committee, helped organize the "Trail Ride" las April at Natchez Trace Park, was a member of Prospect Baptist Church and was a Master Mason, Scottish Rite Mason and a Shriner.
--------------------------------------------------------------------------------------------------------------
Vice-President and director of Bank of Huntingdon, Thomas Alton Boyd died of an apparent heart attack suddenly at his home, Monday.

Boyd 45, was on the lawn of his home in Hollow Rock with a friend when he collapsed, said a spokesman from the bank.

His wife, Mary Ann Boyd, was in Illinois at the time with her mother who is critically ill.

Mr. Boyd was employed at the bank as Assistant Vice-President on October 2, 1967. He was elected director on February 23, 1973. Prior to this he was employed by Associates Capital for some 10-12 years.

He was a member of the Masonic Lodge, Huntingdon Lions Club and Prospect Church.

He was also very active in almost all charity projects and rives in the community.

Funeral arrangements were incomplete at press time with Bruceton Funeral Home in charge. Burial will be in New Prospect Cemetery.

Other than his wife, he is survived by one son, Thomas Boyd of Hollow Rock, his parents Mr. and Mrs. E. E. boyd of Vale Community and one Brother John Wayne Boyd of McKenzie.