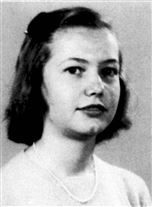 Josephine Carter Yoder
1934-2006

HOLLOW ROCK: Josephine Carter Yoder, 72, died Friday, November 3 at Regional Hospital of Jackson. Graveside services were conducted on Monday, November 6 at New Hope Methodist Church Cemetery near the Vale Community with Rev. Jerry Hollingsworth officiating.

She was born May 22, 1934 in Vale to the late George W. "Pete" and Fredda Francisco Carter. She was a partner with her husband in a Laundromat service.

Survivors include: her husband, Harold Lloyd Yoder of Hollow Rock; two daughters, Michelle Marshall of Hollow Rock and Linda Lee Mendoza of Dumas, TX; one son, Tom Boyd of Paris; two sisters, Lois Hudspeth of Paris and Francis Compton of Huntingdon; one grandson; and two great-grandchildren.

Bruceton Funeral Home was in charge of arrangements.