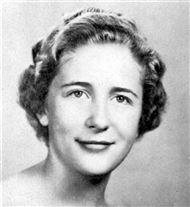 Rebecca Sue Gamblin

Rebecca G. Peeples
January 17, 1940 – August 30, 2020

Rebecca G. Peeples of Franklin TN passed on August 30, 2020 surround by her family.

She was born on January 17, 1940 to Gladys and Lewis Gamblin in Bruceton Tennessee.

Rebecca received her MBA from the University of North Florida and spent many years as the chief financial officer and treasurer for the Episcopal Diocese of Florida. She was known for her love of quilting, puzzles and her love of her cats.

Rebecca is preceded in death by her parents Gladys and Lewis Gamblin and her brother, Dwayne Gamblin.

She is survived by daughter Anne (Michael) Temple, grandson Alexander Temple and nieces, Sondra (Dennie Wayne) Kee and Dana (Jimmy) McMinn. [Source: Brentwood-Roesch-Patton Funeral Home]

A service will be held at a later date in Bruceton TN.