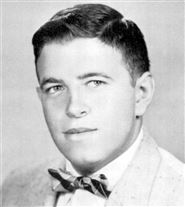 Rodney Edward Higdon
December 13, 1938 - September 13, 1962

Funeral Services Held Saturday for Rodney Higdon - Funeral services for Rodney Edward Higdon were held at 2 p.m. Saturday at the First Baptist Church with the Rev. Alvin Gillian of Memphis, Rev. J. A. Atchley and the Rev. Frank Madden of Camden officiating. Burial was in the Prospect Cemetery with full military rites at the grave by the Benton County National Guard. Bruceton Funeral Home was in charge of arrangements.

Mr. Higdon, who was 23, died Thursday at the Kennedy Veterans Hospital in Memphis where he had been a patient since the car in which he was riding overturned near Big Sandy, Sunday. He was enroute home from a National Guard encampment at Fort Campbell, Ky. when the accident occurred.

Mr. Higdon was born in Benton County and had lived in Bruceton since childhood. He was a former football star at Central High School. On August 11, he married the former Miss Shirley Watson.

Besides his wife, he leaves his parents, Mr. and Mrs. Bobby Higdon and his paternal grand father, Levi Higdon of Bruceton.