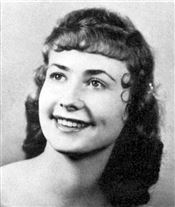 Hollingsworth_Martha_Jane.jpg
Martha Jane Hollingsworth
September 3, 1938 - January 14, 2013

GREENFIELD, TN - Martha Jane Hollingsworth, age 74, died January 14 at Dove Health and Rehab Center in Collierville, TN. Funeral services were January 19 at Bruceton Funeral Home Chapel. Burial followed in Prospect Cemetery in Hollow Rock, and Bro. Wendell Johnson officiated the service.

Ms. Hollingsworth was born September 3, 1938 to the late Turner Lee Hollingsworth and Virgie Ann Rowland Hollingsworth in Bruceton. She was also preceded in death by two brothers: J.T. Hollingsworth and James Hollingsworth. She was a retired Certified Registered Nurse Anesthetist, and was a member of Bruceton First Baptist Church.

Survivors include: two daughters; Dr. Lesa Karen Edwards-Davidson of Greenfield and Dr. Terri Edwards-Lee of Brentwood, TN; two sisters, Joan Mitchell of MO and Pamela Taylor of TN; three brothers, Ganius Hollingsworth and Molly Hollingsworth both of Bruceton, and Bobby Hollingsworth of TN; five grandchildren.