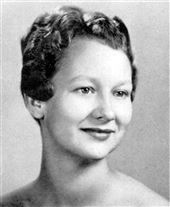 Maebelle Smothers

Maebelle Blankenship
October 11, 1939 - February 16, 2017

Mrs. Maebelle Smothers Blankenship, age 77, of Murfreesboro, TN passed away Thursday, February 16, 2017. She was a native of Carroll County, TN and daughter of the late Clarence and Erma Austin Smothers.

Mrs. Blankenship is survived by her son, Gregg Blankenship and his wife Beth of Christiana, TN; daughter, Amy Powell and her husband Jeff of AL; grandchildren, Sydney, Ellie, Sarah, and Macy; and sisters, Glenda Sparks of Camden, TN, Mary Sue Tippit of Murfreesboro, and Nelle Lowe of Bruceton, TN. In addition to her parents, she was preceded in death by a daughter, Paula Blankenship Masoud.

Graveside services will be held Sunday, February 19, 2017 at 2:00pm at Evergreen Cemetery.