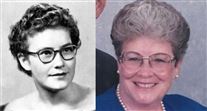 Barbara Ann (Durden) Bunn
April 6, 1939 - March 15, 2021

Barbara Ann (Durden) Bunn, 81, of Louisville died on Monday, March 15, 2021 in Nashville, Tennessee following an extended illness. She was born on April 6, 1939, in Bruceton, Tennessee, and was the daughter of the late Willard Durden and Omra Durden Odom.

She was a 1957 graduate of Bruceton Central High School and a longtime member of Valley View Church in Louisville.

Mrs. Bunn was preceded in death by her parents; her son Michael Bunn; two brothers, Frank Durden and Roscoe Durden; and two sisters, Jean Cagle and Brooxie Love.

She is survived by her loving husband of 63 years, Dwayne Bunn of Louisville; her son, Robert (Mary) Bunn of Nashville, Tennessee; and a sister, Alice (Neal) Wyatt of Bruceton, Tennessee. She is also survived by six grandchildren, Jessica (Salvatore) Silvano, Colleen (Bradley Schweinhart) Bunn, Emily (Chris) Lee, Robert (Kaitlyn) Bunn Jr., Caleb Bunn, and Lora Bunn; as well as six great grandchildren, Salvatore Silvano Jr., Jayden Lee, Ava Silvano, Lilly Schweinhart, Adalynn Lee, and Waylon Schweinhart.

Services will be held 1:00 P.M. Friday, March 19, 2021 at the Owen Funeral Home 5317 Dixie Hwy. in Louisville. Visitation will held 11:00 A.M. – 8:00 P.M. Thursday. A graveside service will be held immediately after the funeral at Louisville Memorial Gardens West, 4400 Dixie Hwy. in Louisville.