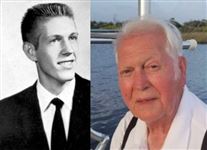 Norman Hillard
August 17, 1941 - September 26, 2020

Mr. Norman Hillard, 79, of Huntingdon, Tennessee passed away Saturday September 26, 2020 at his home.
Funeral services will be conducted 2:00PM Monday September 28, 2020 in the Chapel of Dilday-Carter Funeral Home. Interment will follow in New Hope Cemetery. Brother Phillip Halter officiating. Masonic services at 1:30PM Monday.

Mr. Hillard was born August 17, 1941 to the late Herschel Hilliard and Pearlie Carey Hilliard. He was a retired Industrial Electrician for DuPont, member of Ephesus Missionary Baptist Church, Saved in 1950 at Friendship School in Benton County, Helped build Center Point Missionary Baptist Church in 1952, baptized in 1952 and joined Center Point Baptist Church, was in the Army from 1959-1963, former member of Hollow Rock Masonic Lodge #288, member of Bruceton Masonic Lodge #731, 50+ year Master Mason and a member of other Masonic Appendant Bodies. Preceded in death by two brothers James Hilliard and Bobby Hilliard; four sisters Della Watson, Sue Helen Robertson, Lillian Dillingham and Oberlan Johnson.

He is survived by his loving wife of 24 years Martha Hillard of Huntingdon, Tennessee; one daughter Angie Fenti of Hollow Rock, Tennessee; one son Gregory (Tracey) Hillard of Hollow Rock, Tennessee; two step-sons William K (Susie) Umstead of Paris, Tennessee and Nick (Ashley) Umstead of South Riding, Virginia; one sister Bonnie Noles of Camden, Tennessee; two brothers Billy Joe (Norma) Hilliard of Buena Vista, Tennessee and Terry Hilliard of Conroe, Texas; 5 grandchildren; 5 step-grandchildren; 4 great-grandchildren and 1 step-great-grandchild.

The family will receive friends at Dilday-Carter Funeral Home on Monday from 9:00AM until time of Masonic service at 1:30PM.

In lieu of flowers donations to St. Jude or Shriners Children Hospital.

Dilday-Carter Funeral Home in charge of arrangements 731-986-8281.