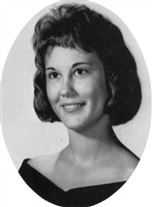 Betty Hollingsworth

Betty Rivera
(February 21, 1945 - January 24, 2017)

Ms. Betty Rivera, age 71 of McKenzie, Tennessee, passed away January 24, 2017 at McKenzie Regional Hospital.

Funeral Services will be conducted 1PM on Saturday, January 28, 2017 in the Dilday-Carter Funeral Home Chapel.

Ms. Rivera was born on February 21, 1945, in Trimble, Tennessee to the late John and Dora Mae Crawford Hollingsworth. She worked at DURA Automotive. In addition to her parents, she is preceded in death by: Sister, Imogene Camargo; and Brothers, John Hollingsworth, Jr., Billy Ray Hollingsworth, and Jackie Hollingsworth.

She is survived by: Sons, Anthony Rivera of Holladay, Tennessee, DeWayne Rivera of McKenzie, Tennessee, and David Rivera of Texas; Daughter, Diana Leonia of McKenzie, Tennessee; Sister, Linda Vega of Finger, Tennessee; Brothers, Ligie Hollingsworth of Huntingdon, Tennessee, Jimmy Hollingsworth of Lavinia, Tennessee, Eddie Hollingsworth of Holladay, Tennessee, and Bobby Hollingsworth of Arkansas; and 13 Grandchildren.

The family will receive friends on Friday, January 27, 2017 at Dilday-Carter Funeral Home from 5-8PM and then on Saturday from 9AM until service time at 1PM.

Dilday-Carter Funeral Home is in charge (731)986-8281 or www.dilday.com.