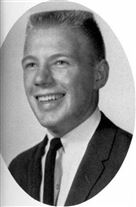 Levi Parish, Jr.
President

Levi A. Parish, Jr.
January 15, 1945 - February 26, 2017

Levi A. Parish Jr., age 72, passed away February 26, 2017 as a result of complications following surgery. Brother Levi was born January 15, 1945 in Huntingdon, TN to Levi A. Parish, Sr. and Arnell Belew Parish. He is preceded in death by his brother Bobby Parish of Huntingdon, TN.

Levi resided in Newport, TN with his bride of 53 years, Sherry Copher Parish. They are members of Swannsylvania Baptist Church in Dandridge, TN. Levi was called to preach at age 16 and ordained in 1962 as a minister of the Gospel. His many pastorates included churches in Tennessee, Texas, Oklahoma, Michigan, and Alaska. His years of service include a 23 year tenure at Eastgate Baptist Church in Burton, MI. Throughout the years he served on numerous committees and boards with the Southern Baptist Convention, which included the office of President of the Baptist State Convention of Michigan. All of these duties he saw as contributing to spreading the Gospel. He delighted in being able to share his faith and love of his Savior, Jesus Christ.

He is survived by his children, Kenneth Gray Parish and wife Margaret Hudson Parish of Arlington, TN, Tammy Parish Bolt and husband Matthew Harrison Bolt of Gatlinburg, TN, and Michael Thomas Parish and wife Anna Pettengill Parish of Davison, MI. He is survived by his 5 grandchildren, Sarah Parish Garner, Christian John Parish, Hudson Gray Parish, Ryan Matthew Bolt, and Gabriel Levi Parish.

Visitation will be at Manes Funeral Home in Newport, TN on Friday, March 3, from 4pm to 6:30pm with the funeral service to follow at 7pm. The interment will be at Swannsylvania Baptist Church Cemetery on Saturday at 11am.

The family asks that in lieu of flowers, donations be made to the Tennessee Baptist Convention via a Go Fund Me account in memory of Levi, found at gofundme.com/zwgqp-memorial-fund or to the Gideons International via www2.gideons.org/donate Family and friends may sign guest register online at:www.manesfuneralhome.com Arrangements by Manes Funeral Home, Newport, Tennessee.