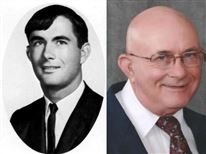 John Wayne Boyd
Treasurer

John Wayne Boyd
July 29, 1949 ~ January 8, 2021 (age 71)

Mr. John Wayne Boyd, 71, of Huntingdon, Tennessee passed away Friday, January 8, 2021 at his home. There will be a private family funeral service. The family asks that those in attendance wear a mask and practice social distancing.

Mr. Boyd was born on July 29, 1949 in Nashville, Tennessee to the late Elvin Boyd and Flossie Barton Boyd. He was a retired DOT Engineer for the State of Tennessee, a member of the Union Academy Baptist Church, and an Army National Guard Veteran for 7 years. In addition to his parents, he was preceded in death by his brother, Tom Boyd.

He is survived by his loving wife of 26 years, Jane Boyd of Huntingdon, Tennessee; 2 daughters, Amanda (Michael) Bomar of Sevierville, Tennessee and Gina (Tony) Webb of Wildersville, Tennessee; 2 sons, Chris (Kelly) Boyd of Jackson, Tennessee and Daniel (LeAnn) Edwards of Clarksburg, Tennessee; 6 grandchildren and 2 great-grandchildren.

Honoring Mr. Boyd as Active Pallbearers will be: Chris Boyd, Terry Thomas, Gary Franklin, Carlton Davis, George Holder, and Jimmy Lowe. Honorary Pallbearers will be: Doc Bartholomew, Danny Simpson, Jimmy Simpson, Bobby Butler, Bob Williams, and Richard Akins.

Dilday-Carter Funeral Home is in charge of arrangements 731-986-8281.