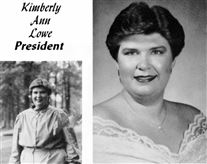 lowe_kimberly_ann_pres.jpg
Kimberly Ann Lowe
President

Kimberly A. Lowe
September 1, 1965 - November 2, 1997

Miss Kimberly Ann Lowe, 32, of Hollow Rock, died Sunday, November 2, at Baptist Memorial Hospital. Funeral services were conducted on Tuesday, November 4, at 2 p.m., at Huntingdon First Baptist Church. Interment followed in Prospect Cemetery in Hollow Rock. Brothers Fred Ward and Jimmy Allison officiated.

Miss Lowe, a graduate of Hollow Rock-Bruceton Central High School, was born September 1, 1965. She was employed by Baptist Memorial Health Care Services of Memphis as an M.S.O. and was a member of the Huntingdon First Baptist Church.

She is survived by her parents, Edward (Cotton) and Linda Lowe of Hollow Rock; and her paternal grandmother, Thelma Lowe of Bruceton. Pallbearers who served were Dr. Jerry Atkins, Dr. Thomas Brown, Dr. Keith Mosher, Dr. Kevin Wheatley, Dr. Scott Portis, Dr. Lee Carter, Dr. Sergio Salazar, and Dr. Dan Sumrock. Honorary pallbearers were Dr. Steve Williamson, Dr. Chip Christian, Dr. Amanda Reiter, Dr. Jesus Lemus, and Dr. Randy Allison.

Bruceton Funeral Home was in charge of arrangements, (901) 586-2512.