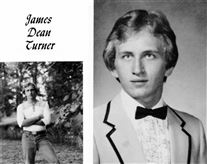 James Dean Turner
March 11, 1965 - February 19, 2014

Dean Turner, 48, of Nashville, formally of Vale, Tenn., died Wednesday, February 19, 2014 at his home.

Mr. Turner was born on March, 11, 1965 in Paris, Tenn., to Diane Smothers Turner and Jimmie T. Turner. He was a Methodist in faith. He was preceded in death by paternal grandparents, Harold and Rubye Turner; maternal grandparents, Christine Craves and Buford Smothers.

He is survived by his father, Jimmie T. (Cathy) Turner of Bruceton; mother, Diane Smothers (Elmer) Scott of Nashville, Tenn.; one daughter, Lacy (Chris) Turner of Nashville, Tenn.; one son, Dustin (Danika) Callahan of Nashville, Tenn.; one sister, Marla (Charles) McDowell of Medina, Tenn.; one nephew, Wyatt McDowell; one niece, Eve McDowell; four uncles, David (Angie) Turner of Huntingdon, Bill "Clenoy" (Faye) Turner of Paris, Tenn., Dorris (Louise) Allison of Paris, Tenn., and Jerry (Joan) Smothers of Jackson.

Funeral services were February 22 in the Bruceton Funeral Home Chapel. Interment followed in the New Hope Methodist Church Cemetery Near Vale. Charles McDowell and Bro. Steve Whitworth officiated the service.