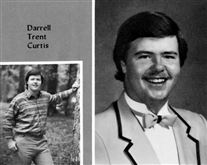 Darrell Trent Curtis (died before graduating)
April 7, 1956 - January 7, 1985

Services for Darrel Trent Curtis, l8, of Bruceton, were Wednesday, January, 9, at Phillips-Robertson Funeral Home in Nashville. Burial was in Harpeth Hill Cemetery there. Bruceton Funeral Home was in charge of.local arrangements.

The young man was pronounced dead Monday night,. January 7, at Baptist Hospital of Huntingdon from injuries received earlier when his car wrecked on U.S. 70 near the Rosser community authorities said.

He was a native of Nashville, had lived the past year in Carroll County and was a senior at Hollow Rock-Bruceton Central High School.

Surviving are his mother, Mrs. Alice Lunn Curtis; a brother, Anthony Curtis of Nashville; and two grandparents, Mrs.Margaret Lunn of Franklin, and Mrs. Viola Curtis of Fairview.