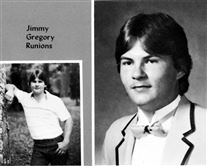 runions_jimmy_gregory.jpg
Jimmy Gregory Runions
March 9, 1967 - September 24, 1997

Jimmy Runions, 30, assistant manager BRUCETON

Services for Jimmy Gregory Runions, 30, will he at 10 a.m. Saturday at Prospect Baptist Church. Burial will he in Prospect Cemetery in Hollow Rock. (Not the church cemetery.) Mr. Runions, assistant manager of Pockets Convenience Store, died Wednesday at Baptist Memorial Hospital in Huntingdon of injuries sustained in an automobile accident.

He is survived by a sister, Cindy Parham of Huntingdon; a brother. Timothy Runions of 'Hollow Rock; his parents, James and Betty Runions of Bruceton; and his grandmother, Ruby Swift of' Bruceton For more information, call Bruceton Funeral Home at 586-2512.