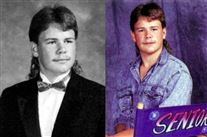 hilliard_jeremy_dewayne.jpg
Jeremy Dewayne Hilliard
June 27, 1973 - May 28, 2009

MILAN – Funeral services for Jeremy Dewayne "J. Bird" Hilliard, 35, of Milan were held May 31 at Bodkin Funeral Home with burial at Poplar Springs Cemetery in Atwood. Rev. Donnie White officiated. Mr. Hilliard died May 28 at Milan General Hospital. He was a forklift operator at T.B.D.N. Corp. and a member of Free Will Mission Church near Milan.

Mr. Hilliard is survived by his wife, Rachel Luther Hilliard of Milan, a step-son, Carson Hicks and stepdaughter, Carlee Hicks of Bruceton, his mother, Rebecca Sims and father, Billy "Slick" Sims of Milan, three brothers, Willie Russell of Paris, Zachary Russell of Fort Sill, Okla. and Lucas Sims of McKenzie, three sisters, Tenecia Sledge of Knoxville, Tammy West of Milan and Lula Sims of Jackson, and grandmother Elsie Hilliard of Jackson.