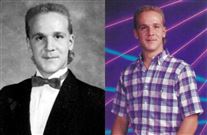 Howell Dwayne Mebane, Jr.
August 28, 1973 - June 30, 1991

Howell Dwayne (Hal) Mebane, Jr., 17 of Buena Vista, died Sunday, June 30, at his home. Services will be today (Wednesday, July 3) at 10 a.m. at First Baptist Church in Bruceton with burial in the Prospect Cemetery in Hollow Rock. Bro. Conyer Walker officiated. Bruceton Funeral Home was in charge of arrangements.

Hal graduated from Hollow Rock-Bruceton Central High School with an Honors Diploma in May of 1991. He received the Social Studies Award, Presidential Academy Achievement Award and had plans to attend UT Martin this fall. He was presently working in construction with his father. During his senior year Hal was chosen Wittiest by his class and also played on the school's baseball team which played in the State Tournament this year. Hal was a member of the First Baptist Church of Bruceton.

He is survived by is parents Dwayne & Mary Virginia Mebane; four sisters, Amy Scott of Brentwood, Terry Haynes of Atlanta, GA, Melissa Totty of Camden, and Kippy Alexander of Maryville; his grandparents, Mr. & Mrs. Jerry Mebane of Buena Vista, and Mr. F. Bates Sullivan of Fort Pillow.