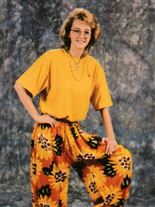 TAMMIE MARIE GOODWIN
Sept 1, 1975 - Oct. 26, 1994

Tammie Marie Goodwin, 19, of Bruceton died October 26, at her home.

She was a basic Airman with Tennessee Air National Guard and a member of Prospect Baptist Church.

Funeral services were October 30, at Prospect Baptist Church i Hollow Rock. Burial followed in Prospect Cemetery with Brother Paul Merwin officiating.

She is survived by her parents, Richard and Janet Goodwin; two sisters, Windie Goodwin and Pennie Goodwin; maternal grandparents, James and Frances Kendall all of Bruceton; paternal grandparents, Thomas and Jean Goodwin of Collierville.

Bruceton Funeral Home was in charge of arrangements.