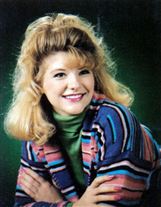 patterson_christina_lola.jpg
Christina Lola Patterson
October 2, 1975 - October 24, 2003

Christina Lola Patterson, 28, of Hollow Rock, died Friday, October 24. Services were held at 1:00 p.m. Wednesday, October 29, at Bruceton Funeral Home Chapel. Burial followed in McAuley Cernetery near Buena Vista. Reverend William A. Fowler officiated. Pallbearers who served were Ed Ozier, Jr., Kim Coleman, Steven Fowler, Keith Fowler, David Kee and Kenny Dale Fowler.

Ms. Patterson, daughter of 1 Sherry Ozier and the late Charles Wade Patterson, was born October 2, 1975 in Memphis. She was preceded in death by her maternal grandmother, Estelle Ozier.

In addition to her mother, she is survived by four sons, Blake Santiago, Drew Jordan, Astin Patterson and Tristan Patterson, and one brother, Tony Patterson of Hollow Rock; her grandfather and step-grandmother, Levi (Squake) Ozier and Janis Ozier of Buena Vista.