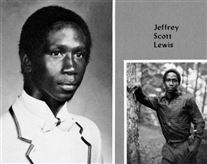 Jeffrey Scott Lewis
September 13, 1968 - September 13, 1992

Death came to Jeffrey on September the 13th at Alamogordo, New Mexico at the age of 24. Leaving behind a daughter, Patrice Nicole Lewis of Fayettville, North Carolina, his mother, Frances Lewis of Bruceton, TN, his father, John Lewis of Hollow Rock, TN, one sister, Janet Jones of -Covington, TN, one brother, John W. Lewis of Kefralik, Iceland, his wife Lisa of Fayettville, NC, step-daughter, Tasha Anderson, a sister-in-law, Michael Lewis, a brother-in-law, Tony Jones, 4 neices, 1 nephew and a host of cousins, aunts, uncles and other relatives and friends that will miss him. Jeffrey confessed faith in Christ at an early age and became a member of Mt. Nebo Baptist Church where he was an usher.

He is buried in Old Pisgah Cemetery Bruceton, Tennessee. Death was by drowning.