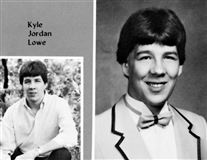 Kyle Jordan Lowe
Dec. 15, 1966 - Jan. 31, 1996

Services for Kyle Jordan Lowe, 29 of Bruceton, were at 2 p.m. Saturday, February 3, 1996, at First Baptist Chruch in Bruceton. Interment followed at Prospect Cemetery in Hollow Rock.

Mr. Lowe a medical sales specialist, was born on December 15, 1966, to Mr. and Mrs. Gene Lowe of Bruceton. He was a member of Two Rivers Baptist Church in Nashville. He died on Wednesday, January 31 1996, at his home in Antioch of cancer.

He is survived by two sisters, Mrs. Jeanie Lenagar of Munford, and Mrs. Lura Scates, of Kennesaw, GA.; two brothers-in-law, Kevin Lenagar, and Dennis Scates, and four nephews, Daniel Lenagar, Shonn Lenagar, Ryan Scates, and Stephen Scates. He also leaves his grandmother Mrs. Evelyn Jordan, of Louisville, Mississippi.

Pallbearers who served were cousins, Ken Dotson, Don Lowe, Todd Lowe, David Lowe, Barry Lowe, and Billy Lowe. Bruceton Funeral Home is in charge of arrangements.