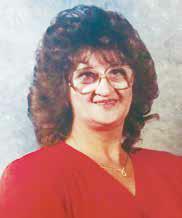 Rita Chandler, 69, of Hollow Rock, passed away on Thursday, June 18, at Jackson-Madison County General Hospital. Mrs. Chandler was born on June 29, 1950, in Carroll County, to the late Clifford Pace and Lucy McMillin Pace.
She was a retired seamstress for Henry I. Siegel Company, Inc. She was preceded in death by her grandson, Jonathan Powers; two brothers, Billy Joe Pace and Bobby Lynn Pace and her companion William Burl Chandler.
Funeral services were held on Sunday, June 21, at 2 p.m., in the Chapel of Bruceton Funeral Home. Pallbearers included: Ernie Horn, Brian Crider, Brandon Banes, Wayne Singleton, Kenny Chandler and Dale Long. Interment followed at McAuley cemetery near Buena Vista.
She is survived by her two daughters, Regina Bailey and Linda Powers, both of Wildersville; one sister, Knica Hutchens of McKenzie; three grandchildren, Khristin Banes of Youngstown, Fla., Ashley Johnson and Brandon Banes, both of Waverly; and six greatgrandchildren: Skylar Powers, Jaylynn Gladiator, Brilee Johnson, Kenzlee Johnson, Jaxston Grantham and Braxton Banes. [Source: Carroll County News-Leader]
CURTIS "EDDIE" FOSTER
January 7, 1949 - July 16, 2015
BRUCETON — Funeral services for Curtis Edward "Eddie" Foster, 66, of Bruceton were Saturday, July 18 at Bruceton Funeral Home. Interment followed at New Prospect Cemetery in Hollow Rock, Tenn.
He was born January 7, 1949 in Carroll County to the late James Leon Foster, Sr. and Mrs. Marcella June Williams Foster. He was a security guard for Murray Guard and a member of Prospect Baptist Church.
He is survived by two sons, Michael Foster of Big Sandy, Tenn. and Rick (Gail) Foster of Goodlettsville, Tenn.; and one grandchild. [Source: McKenzie Banner]